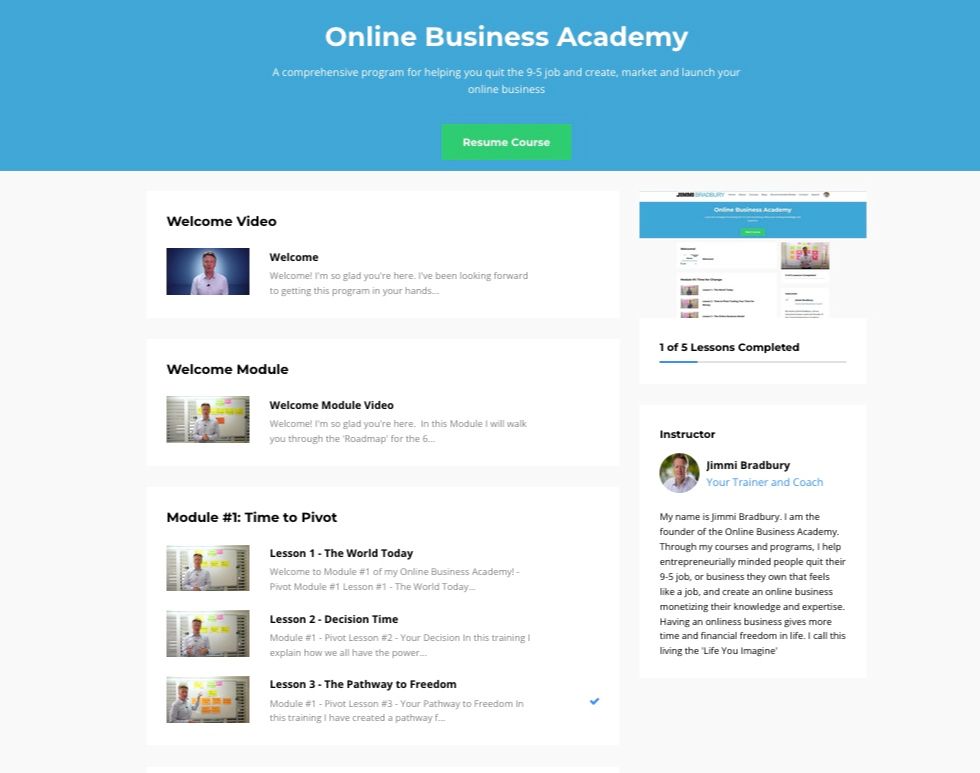 Online Business Academy

Create an Online Business
Sharing your knowledge & expertise with the world
Life Time Access to:
5 Module Online Course with over 10 hours of video training 
Plus tech library, pdf downloads, worksheets & resources

30 day money back guarantee
Enroll Now >>>
Donclarte Dontsi
Pivoted out of the Corporate 9-5
I have worked with Jimmi for almost 3 years now and his business-focus skills along with his soft and understanding approach to coaching have been key in my transition from a decade in the corporate space into entrepreneurship.
Truly worth every penny I have invested in working with him

- 

The ROI
Jimmi was a true & genuine coach when helping me to transition my passion online. He stepped me through the process and was always there to lend a helping hand when I was struggling with something.

As a perfectionist I like to do things right, and Jimmi facilitated a fun but constructive environment for me to learn and transition with no fuss.
LinkedIn Launch Academy

Learn How to Master LinkedIn and Generate Business at the Biggest Network Event in the World

Life Time Access to:
5 Module Online Course with almost 3 hours of video training 
Plus pdf downloads, worksheets & resources

30 day money back guarantee
Enroll Now >>
Jenea Frederick
 Career Coach for Moms
Jimmi is an awesome teacher.
I purchased Jimmi's LinkedIn Online training course called 'LinkedIn Launch Academy '
I love how he has taken the time to list every area one by one.
He really considered every level for someone like me who only was a beginner on LinkedIn.
I always had a LinkedIn profile but did not see it as a place for business.
I noticed my LinkedIn profile gets more hits and views now.
Thanks Jimmi 
Heike Fallon
Coach & Speaker
I was dreading setting up and optimising my LinkedIn account because I didn't know where to start.
I felt a little overwhelmed.
Jimmi is an amazing teacher and got me off on the right foot.
His course 'LinkedIn Launch Acadamy' has been very helpful to set up my account and start to maximise the use of LinkedIn for my business.
His teaching is very clear and structured. It was easy to follow along and the worksheets helped me to plan and implement the content.
Jimmi's professional and caring character definitely stands out and sets him apart.
Online Business Academy Accelerator Program
Whether you are just starting your online business journey and wanting to launch your first online course or perhaps you already have an online business and want to scale it, my 'Online Business Academy Accelerator' implementation coaching program will help you fast track your success
Apply below to schedule a complimentary free strategy call with me to see if my program is a suitable fit for you
Apply Now >>>
Richard  Wolfe
Public Speaker
Jimmi hosted an Online Business Academy that I attended for 12 weeks( actually a little longer due to holiday breaks) 
My goal was to begin my online business which was a course that teaches Public Speaking framework about developing, writing and preparing for your speech. 

Jimmi was open, honest and always gave it to me straight. No fluff! 

He stuck with me too. As I pushed my launch date back twice. He hung in there and didn't kick me to the curb.

Thank you Jimmi!!

I launched and sold a few courses and have since signed 5 new clients for my coaching services. 

I thank Jimmi for always being my cheerleader and encouraging me to keep going. 

I highly recommend Jimmi to anyone wanting to launch an online business. 

He is a kind soul who truly wants you to succeed in your journey to online freedom.
Angela Magill
Teacher & Mentor
I feel very privileged to have had the chance to complete Jimmi's Linkedln Launch Academy course and now going through his Online Business Academy Online Course & Accelerator Coaching program which has been amazing! 
Jimmi is an excellent Teacher and his passion really shows through. He genuinely cares about his students and wants to see them succeed.
He provides very well structured courses which are very suitable for beginners and are set at a pace which don't overwhelm you. 

He has provided me with such amazing support and encouragement and better than anything I've ever experienced in the online space in a few years. I can finally see light at the end of the tunnel after struggling to find my way. 
I applied what he taught in his LinkedIn course and I could see results that very week.
It was a very thorough course laid out in bite sized modules so was very easy to follow and then implement. 

My confidence has grown so much while working with Jimmi and I'm so grateful. I'm finally finding my true path in this amazing online world and very excited to see what the future holds.
Thank you so much Jimmi!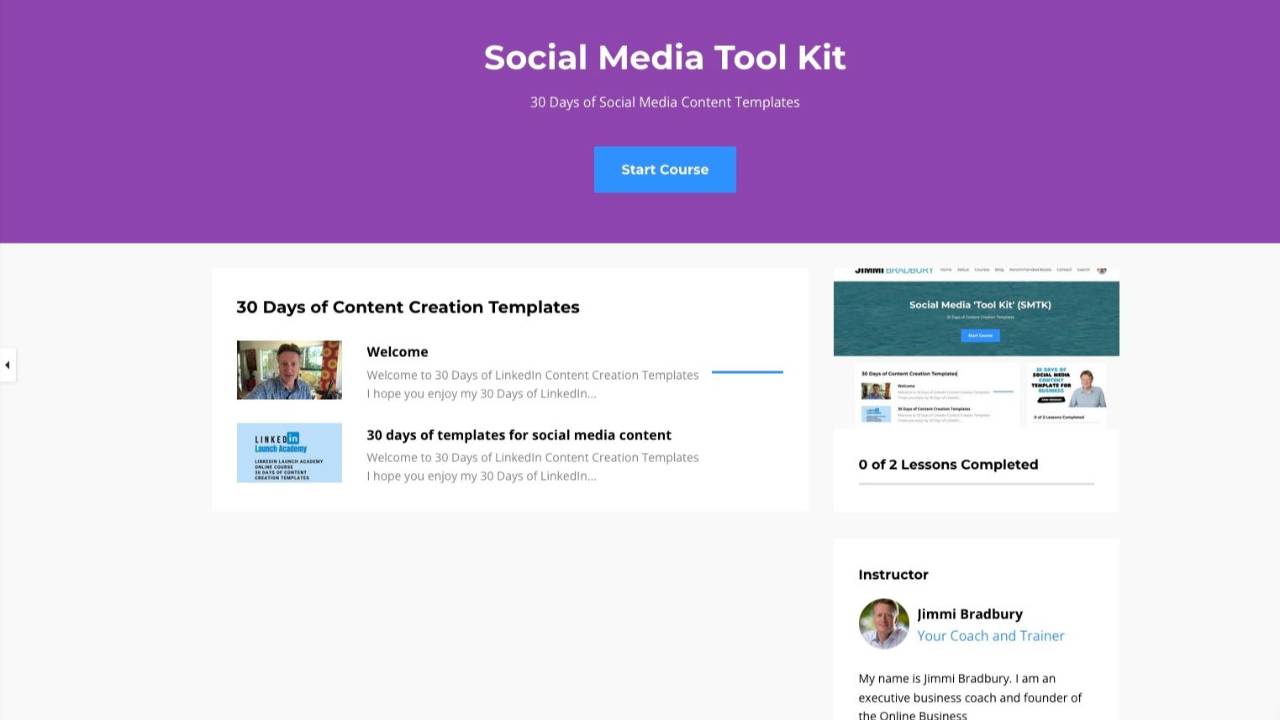 Social Media Toolkit

30 ready made templates for your social media content

Workbook with 30 days of ready templates for your social media content
Includes worksheets and links to additional resources

These ideas are based on experience gained from online audience building and networking - along with my up to date knowledge of what works best.
Enroll Now >>
Marie Ekerholm 
Executive Coach - Mentor - NED - Trustee 
Thank you Jimmi, for encouraging me and showing me step by step how to create an online course from the knowledge and experience I have built up over a lifetime. It was SO challenging initially being in front of a camera, knowing where to start and how to market the course once it was done. But with your help it seemed so easy, and I really needed that heartfelt support and pragmatic, hands-on approach. I am super excited to share the work I do around the world and not only here in the UK. I would recommend Jimmi to anyone who wants to build an online course to build financial and time flexibility into their lives. I am forever grateful to you!